A Global Salute to Women Around the World
"Enough is enough."
The message by U.N. Women Executive Director Michelle Bachelet on International Women's Day encapsulated a rallying cry for this year among gender advocates: to end discrimination and violence against women and girls.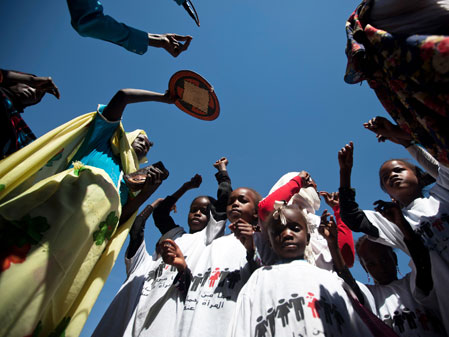 Women and girls participate in an event promoting an end to gender-based violence in Zam Zam camp for internally displaced persons in North Darfur, Sudan in December 2012. Photo by: Albert González Farran / U.N."Today on International Women's Day and every day, let us go forward with courage, conviction and commitment, with the message that women's issues are global issues that deserve urgent priority," she added. "There can be no peace, no progress as long as women live under the fear of violence."
U.N. Secretary-General Ban Ki-moon agrees.
At the 5th Annual Women's Empowerment Principles Event in New York, he said: "We must not rest until we end violence against women and ensure women's full political and economic participation worldwide."
Ban praised the strides that the private sector has made in tackling the challenges of addressing biases and stereotypes, and integrating inclusion and diversity practices into the supply chain.
"There is one universal truth, applicable to all countries, cultures and communities: Violence against women is never acceptable, never excusable, never tolerable," he said.
Other prominent voices from the global aid community chimed in.
In a statement for today, U.N. Development Program Administrator Helen Clark said: "On this International Women's Day, we imagine a world free of violence against women and girls, a world in which women and girls do not fear being attacked in their homes or communities, and one where would-be perpetrators know they will be held accountable for their crimes."
Clark asked the world to celebrate this day "not only by recognizing the devastating impact of violence against women, but by renewing our collective efforts to stop it once and for all."
Meanwhile, at the 57th session of the Commission on the Status of Women, World Bank Managing Director Caroline Anstey stressed the need for laws that are responsive to women.
"We need effective court systems to back up the laws. We need exit options for women who're under threat — quick and integrated support to victims — hotlines, shelters, psychological care," she said. "We also need health and education systems that work for women and girls. But perhaps most importantly we need leadership, information, education and role models to help establish new norms."
In Brazil, World Bank President Jim Yong Kim will today give away a prize for Best Short Documentary on Implementation of the Law Against Domestic Violence.
"We know from our groundbreaking 2012 World Development Report on Gender that women's opportunities and abilities to make choices have profound implications not only for our generation, but for the next generations, too," he said. "A host of studies show that when women are given economic opportunity, the benefits extend beyond them, to their children, their communities and to economies at large."
Similar sentiments are mirrored from all corners of the globe. Here are some that commemorate this noteworthy day:
United States
Secretary of State John Kerry, with first lady Michelle Obama, will honor nine women of diverse background with the Secretary of State's International Women of Courage Award, for having shown extraordinary courage and leadership in advocating for women's rights and empowerment.
Africa
A team of female climbers has reached the apex of Mount Kilimanjaro in Tanzania, Africa's tallest mountain, to commemorate International Women's Day. The team, composed of seven Nepalese and three African women, was backed by the joint support of the United Nations, Tanzanian government, WFP and Child Reach International.
"We are on the top! Nothing is impossible if we struggle to pursue our dreams," said Nimdoma Sherpa, a team member and a former recipient of school meals from WFP in Nepal.
In Tunisia, African Development Bank President Donald Kaberuka said: "International Women's Day is a day of celebration and a day of challenge, often rolled into one. In realizing how far we have come towards ensuring genuine equality of opportunity for women as for men, it becomes clear how far we still have to go."
Europe
Heads of international organizations in Rome will convene today at the World Food Program headquarters to devise ways of protecting and empowering women and girls through food security. The event is piloted by WFP, the Food and Agriculture Organization, International Fund for Agricultural Development and International Development Law Organization, in cooperation with the government of Iceland.
Asia-Pacific
AusAID has joined the celebrations, as well.
"Violence against women is unacceptable, anywhere, anytime," it said. "It violates human rights, devastates lives, fractures families and communities and undermines good development."
Read more development aid news online, and subscribe to The Development Newswire to receive top international development headlines from the world's leading donors, news sources and opinion leaders — emailed to you FREE every business day.
Read the original article on Devex.