World Day 2011 events aim to stop violence against children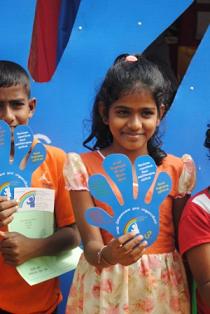 (New York, 14 November 2011) – Making the world fit for children – especially by stopping violence against them – is the shared goal of the World Day of Prayer and Action for Children, a global movement. Across the globe, hundreds of religious and civic leaders are mobilizing religious services and public celebrations on 20 November, to coincide with Universal Children's Day. For 2011, more than 60 events are planned in over 55 countries starting 14 November.
This unique partnership of religious communities, governments, not-for-profits, grassroots organizations and concerned individuals will raise awareness and launch concrete projects to improve the lives of children in local communities worldwide.
Stopping violence against children is the World Day's campaign for 2011-2013.
"We cannot make sustained progress for children in a world of violence," says Kul Gautam, convening chair of the World Day and former assistant secretary-general of the United Nations. "We need to plant seeds for a non-violent world, starting with children."
The World Day was founded by Arigatou International, a faith-based NGO in Tokyo in 2008. In 2009, more than 9,000 people in 29 cities in 22 countries took part. In 2010, more than 36,500 people joined in with 69 events in 48 countries. In 2011, at least 62 events in 55 countries will be held.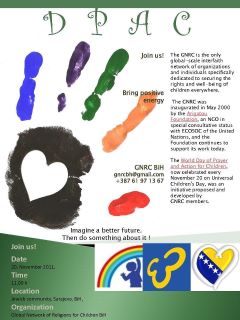 In 2011 some activities in East and Central Africa efforts are focusing on eradicating small arms used to recruit child soldiers; South Asian grassroots organizations are coordinating a multi-year plan of action against corporal punishment; Arab youth are continuing a "Bag of Love" program for neighborhood children; European youth from five countries are organizing their own World Day observances; and in Latin America, eight countries are planning faith-based ceremonies and activities.
In New York City, a panel of UNICEF, Yale University, Covenant House, International Rescue Committee and World Day experts will present at the United Nations on 18 November a briefing on how to "Stop Violence Against Children Through Positive Parenting."
Five billion people in the world are affiliated with a religious group. The annual observances on 20 November are not about "uniting the religions," says Hans Ucko, World Day co-chair, but rather about "affirming diversity and respecting the integrity of the various religious traditions…prayer will play a part but also lead us to discover other dimensions in religious and spiritual life and tradition."
The World Day also produces resources to inform and inspire action. A note on positive parenting and non-violent discipline will soon be released.
The World Day of Prayer and Action for Children is a global movement that connects religious and civic communities to devote one day each year to prayers and visible actions for the well-being of children. Established by Arigatou International in 2008 in Tokyo, the World Day is celebrated every year worldwide during the week of 20 November. Website: www.dayofprayerandaction.org.
The rainbow of the logo symbolizes the diversity of the human family and the universal hope that all children will one day grow to their full potential in a peaceful world. The child painting the rainbow represents the inspired work of people of goodwill everywhere.
For further information, please contact Meg Gardinier, Director, World Day of Prayer and Action for Children, New York Secretariat or email us.
# # #