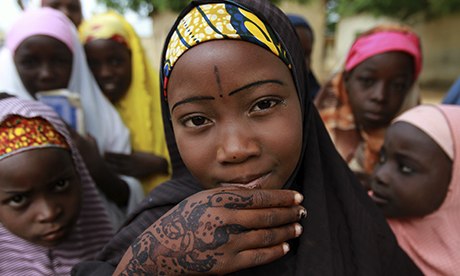 'Legacy of illiteracy' costing developing countries billions of dollars a year in wasted education funding, warns Unesco
One in four young people in developing countries are unable to read a sentence, according to a report, which warns that poor quality education has left a "legacy of illiteracy" more widespread than previously believed.
This year – the 25th anniversary of the Convention on the Rights of the Child – UNICEF challenges the world to think differently about how to drive change for the world's hardest to reach and most vulnerable children.
"Adolescent girls need to be aware of laws against child abuse and child marriage as in most cases they fall victims to such abuse," said Jecintha Martin, Secretary, Madurai District Legal Services Authority (DLSA), at an awareness camp here on Wednesday.
LONDON (Thomson Reuters Foundation) - Jamila was three years old when her parents gave her to another Afghan family for marriage to their son. She was beaten regularly and treated as a slave.
At 10 she was raped by the uncle of her intended husband. Her injuries were so severe she had to be taken to hospital. The following year she was forced to marry her rapist. Every night he raped her and then sent her to sleep in the stable with the animals.
The share of countries with a high or very high level of social hostilities involving religion reached a six-year peak in 2012, according to a new study by the Pew Research Center. A third (33%) of the 198 countries and territories included in the study had high religious hostilities in 2012, up from 29% in 2011 and 20% as of mid-2007. Religious hostilities increased in every major region of the world except the Americas. The sharpest increase was in the Middle East and North Africa, which still is feeling the effects of the 2010-11 political uprisings known as the Arab Spring.1 There also was a significant increase in religious hostilities in the Asia-Pacific region, where China edged into the "high" category for the first time.
LONDON, Jan 16 (Reuters) - A chronic gap between rich and poor is yawning wider, posing the biggest single risk to the world in 2014, even as economies in many countries start to recover, the World Economic Forum said on Thursday.
Its annual assessment of global dangers, which will set the scene for its meeting in Davos next week, concludes that income disparity and attendant social unrest are the issue most likely to have a big impact on the world economy in the next decade.
(Vatican Radio) A Holy See delegation has concluded a hearing at the United Nations on implementing the Convention on the Rights of the Child, describing it as an "important and fruitful, interactive dialogue" on dealing with child protection.
Global champions and $1 billion investment needed to prevent a lost generation of Syrian children
NEW YORK, 7 January 2014 - UNICEF, UNHCR, Save the Children, World Vision and other partners today called for governments, aid agencies and members of the public to become champions for the children of Syria and support the "No Lost Generation" strategy, which aims to provide those affected by the conflict with the chance to shape a more stable and secure future.
Belgium legalised the right to euthanasia for adults in 2002. Now the Senate has voted to extend the law to children who are terminally ill, and suffering unbearable physical pain. Supporters believe this would be a logical move. Opponents say it is insanity.
(Reuters) - Violent crime against women in Afghanistan hit record levels and became increasingly brutal in 2013, the head of the country's human rights commission said on Saturday, a sign that hard won rights are being rolled back as foreign troops prepare to withdraw.