At least 10 people have been killed in a strike near a UN-run school housing Palestinians displaced by the Gaza conflict, medics say.
The attack hit the entrance of the facility in Rafah, where thousands of Palestinians are said to be sheltering.
UN Secretary General Ban Ki-moon described the attack as a "moral outrage and a criminal act".
JERUSALEM (CNS) — With close to a quarter of a million Palestinians rendered homeless by the continuing and intensifying fighting between Hamas and Israel in Gaza, the Coordinating Catholic Aid Organizations met three times in as many days to organize action to confront the humanitarian crisis.
In addition to the current material needs — food, water, personal hygiene items, medicine and diesel fuel for generators — the Catholic aid associations from the Holy Land, U.S. and Europe are beginning to plan for the psychosocial needs of Gazans at the eventual end to the confrontation.
But then a few months ago she was arrested for prostitution. That put a scare in her — that and threatening mobile messages from a former lover — so she's trying to go it alone.The Syrian refugee woman huddled in the latest room she calls home, a peeling, run-down place outside a north Lebanese village. The mother of six doesn't know how she'll pay the rent. She's gotten by over the past year by taking a series of lovers who would pay for her housing.
"I could never imagine that I'd reach this point," said 38-year-old Samar, who lived a middle-class life back in Syria with a husband who has disappeared since his arrest by Syrian troops.
Children are "fleeing for their lives," according to journalist Sonia Navario, who has investigated the root causes, circumstances, and plight of vulnerable migrants who have been traveling -- often by themselves at enormous risk -- to the United States and other countries throughout the Americas from the Central American countries of Honduras, Guatemala, and El Salvador.
In the case of Cristian, an 11 year-old boy from Honduras that Navario interviewed in Honduras, his father was murdered in March by gangs, he witnessed the murder of three people who defied the narco-cartels that control much of the countryside, and a girl his age "resisted being robbed of $5. She was clubbed over the head and dragged off by two men who cut a hole in her throat, stuffed her panties in it, and left her body in a ravine across the street from Cristian's house."
WASHINGTON, Jul 23 2014 (IPS) - As Tuesday's major summits here and in London focused global attention on adolescent girls, the United Nations offered new data warning that more than 130 million girls and women have experienced some form of female genital mutilation, while more than 700 million women alive today were forced into marriage as children.
Noting how such issues disproportionately affect women in Africa and the Middle East, the new report from the United Nations Children's Fund (UNICEF) surveyed 29 countries and discussed the long-term consequences of both female genital mutilation (FGM) and child marriage.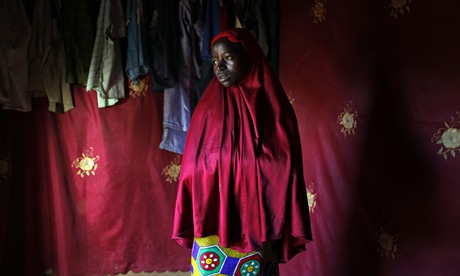 Girl Summit tackles female genital mutilation and child marriage, as Unicef warns 280 million girls could be brides before 18
More than 700 million women worldwide were married as children, with one in three of them married before their 15th birthday, according to a global prevalence study.
As activists, politicians and campaigners gather for the first Girl Summit on child marriage and female genital mutilation (FGM), a report by Unicef, the UN's children's agency, reveal the devastating situation of millions of women.
Jamaica is being lauded for the steps being taken to protect the nation's children from all forms of violence. However, the country is being told it has a long way to go to eliminate the culture of abuse that has become somewhat entrenched.
UNITED NATIONS — The United Nations has documented more than 4,000 cases of children recruited and used in conflicts in 2013 and said in a report Tuesday that thousands more are estimated to have joined armies and rebel groups around the globe.
Secretary-General Ban Ki-moon's annual report on children and armed conflict adds Nigeria's notorious extremist group Boko Haram to the U.N. "list of shame." It now includes eight government forces and 51 armed groups that recruit or use, kill or maim, commit sexual violence or rape against children in conflicts, or attack schools or hospitals.
Child Marriage Amid Disaster and Conflict
Author: Gayle Tzemach Lemmon, Senior Fellow for Women and Foreign Policy
Existing evidence suggests that the correlation between child marriage prevalence and fragility should be examined more closely, as many of the countries with the highest rates of the practice are found on the top of lists such as the Organization for Economic Cooperation and Development (OECD) list of fragile states and the Fund for Peace's Failed States Index.
Almost two decades after 189 governments made a historic commitment in China to a world of equality between women and men, it's time to discuss progress made and challenges ahead.