April 19, 2014 (JUBA) - A number of children were killed in Thursday's fighting at a United Nations base in South Sudan's Jonglei state, with many either caught up in the crossfire or died after being recruited by armed groups and forces, the UN Children's Fund (UNICEF) said.
The exact number of children killed, it said, was not yet known but they were among the dozens of civilians injured and many killed when gunmen attacked those internally displaced at the UN protection of civilians site in the capital, Bor.
Earlier this month, former British Prime Minister Gordon Brown announced "child-marriage free zones" to be established in Pakistan. The UN special envoy on global education said the move is part of a global effort to end the practice, and will try to keep Pakistani girls in school.
31 March, 2014. - The African Committee of Experts on the Rights and Welfare of the Child (ACERWC) would like to inform the media and the general public, that its 23rd Ordinary Session will take place from 07 - 16 April, 2014, at the African Union Commission New Conference Centre, Addis Ababa, Ethiopia.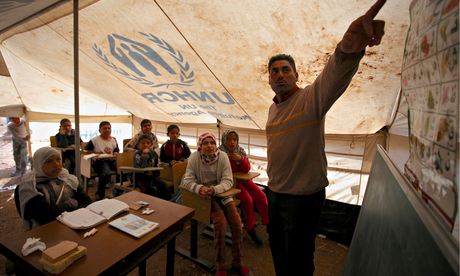 Unicef calls for three years' sustained financing for education of displaced children to prevent even greater humanitarian disaster
The crisis in Syria, which has left 5.5 million children in need of urgent educational and psychological support, will become an even greater humanitarian catastrophe if the international community does not come up with three years' guaranteed funding, Unicef has warned.
Robert Putnam, the Harvard professor renowned for his challenging analysis of social trends, lectured Thursday night at Washington's Kennedy Center to an audience that included two Catholic cardinals and a motley group of very religious and distinctly non-religious people. He presented slides showing graph after graph that looked like gaping sharks' jaws. Again and again the lines that show trends in America between rich and poor open wider and wider. The gaps get larger. That's true for education, nutrition, participation in sports, and teen pregnancy. Putnam's message is that inequality is unmistakable and it is getting worse.
VATICAN CITY (AP) — Pope Francis asked for forgiveness Friday from people who were sexually abused by priests, and vowed that there will be no going back in the church's fight to protect children.
Francis made the off-the-cuff remarks after coming under criticism from victims' advocacy groups for a perceived lack of attention to the problem and ongoing demands that he sanction bishops who covered up for pedophiles.
LONDON (Thomson Reuters Foundation) - Up to 50,000 undernourished children below the age of five are likely to die in war-torn South Sudan unless they receive urgent treatment, the U.N. Children's Fund has warned.
Nearly a quarter of a million children will suffer severe acute malnutrition by the end of the year if more is not done now to tackle hunger, UNICEF said on Friday. "The youngest citizens of the world's newest nation are on the verge of a nutrition crisis," it added. After enduring 13 years of physical and psychological torture, Berivan Elif Kilic decided to leave the husband she was forced to marry and commit her life to protecting other young girls from enduring the same horror.
When Kilic was just 15, she was taken out of school, married off to a cousin and gave birth to two children soon after, the Daily Beast reported. Though the legal age to marry in her home country of Turkey is now 17, the practice of marrying girls off is still rampant.
A high-powered group of global leaders, campaigners and celebrities joined forces today to get 57 million children into school and learning.
The Emergency Coalition for Global Education Action was announced at the 2015 Countdown Summit in Washington, DC, to pressure the international community to take action on behalf of children across the world.
WASHINGTON, Apr 3 2014 (IPS) - Although half the world's population is under 25 years old, young people in more than two dozen countries feel that their opportunities for educational, economic and societal advancement are limited, according to new research released here Thursday.
Researchers say the results should help to drive and prioritise both public and private investment in services.