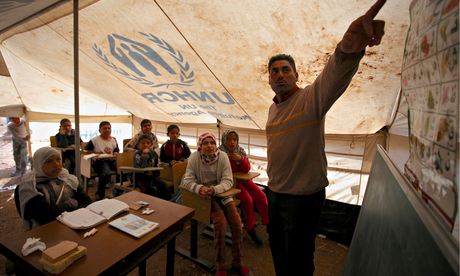 Unicef calls for three years' sustained financing for education of displaced children to prevent even greater humanitarian disaster
The crisis in Syria, which has left 5.5 million children in need of urgent educational and psychological support, will become an even greater humanitarian catastrophe if the international community does not come up with three years' guaranteed funding, Unicef has warned.
Robert Putnam, the Harvard professor renowned for his challenging analysis of social trends, lectured Thursday night at Washington's Kennedy Center to an audience that included two Catholic cardinals and a motley group of very religious and distinctly non-religious people. He presented slides showing graph after graph that looked like gaping sharks' jaws. Again and again the lines that show trends in America between rich and poor open wider and wider. The gaps get larger. That's true for education, nutrition, participation in sports, and teen pregnancy. Putnam's message is that inequality is unmistakable and it is getting worse.
VATICAN CITY (AP) — Pope Francis asked for forgiveness Friday from people who were sexually abused by priests, and vowed that there will be no going back in the church's fight to protect children.
Francis made the off-the-cuff remarks after coming under criticism from victims' advocacy groups for a perceived lack of attention to the problem and ongoing demands that he sanction bishops who covered up for pedophiles.