ROADTOWN Tortola BVI, November 20th, 2013 – The children of the Joyce Samuel Primary School received prayers for their safety and protection in observance of World Day for the Prevention of Child Abuse.
World Day for the Prevention of Child Abuse was commemorated through a Prayer Breakfast held on November 19 by the Family, Children and Protective Services Unit of the Social Development Department under the theme, Uniting to End Violence Against Children. The event also marked the Territory's observance of World Day of Prayer and Action for Children and Universal Children's Day celebrated on November 20 of each year.
Chief Social Development Officer, Mrs. Annie Malone Frett stated that the Social Development Department recognises that learning institutions are unique and irreplaceable agents in protecting and nurturing children in our communities.
She added that a continued partnership with the Ministry of Education and Culture will continue to make a significant impact in the lives of the children of the Territory.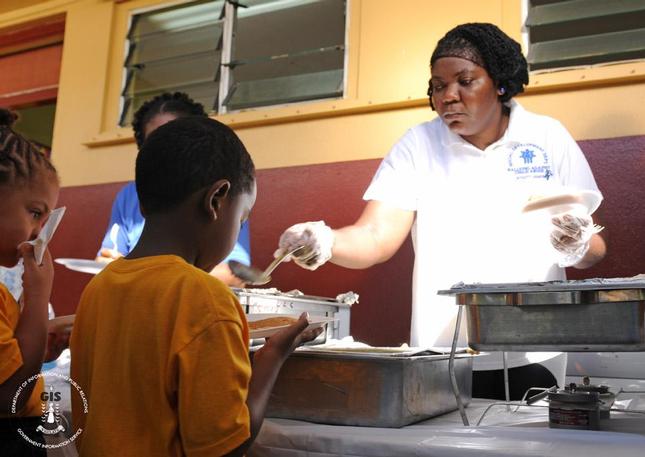 Students of the Joyce Samuel Primary School taking part in breakfast following the Prayer Breakfast programme in observance of the World Day for the Prevention Child Abuse (Photo Credit: Ronnielle Frazer/GIS)"This year, as we again observe World Day for the Prevention of Child Abuse twined with Universal Children's Day and World Day of Prayer and Action for Children, as a community, let us use this opportunity to recommit to the protection of all of our Territory's children," said Mrs. Stacie Stoutt James, Division Head for Family Children and Protective Services.
As part of the commemorative programme Social Worker, Mrs. Beverly Frazer, offered prayers for the protection of the children of the Joy Samuel Primary school and Territory. Class four students of the Joyce Samuel Primary School also performed a skit.
Following the programme, breakfast was provided to the entire school. The event was supported by officials from the Ministry of Health and Social Development, other public sector and community based organisations, and parents.
Pastor Naaman Chalwell offered prayers and encouraging words to the workers and child advocates saying, "I want to encourage you workers to be faithful and true to your calling."
World Day for the Prevention of Child Abuse was initiated by the Women's World Summit Foundation (WWSF) in 2000. The observance aims to create a culture of prevention around the world by encouraging governments, community organisations, and wider society to play active roles in protecting children. World Day of Prayer is a global event, which brings persons together to pray and to commit to taking action to ensure the safety and wellness of children everywhere.
For more information about child abuse prevention programmes and activities throughout the year, contact the Social Development Department at 468-3650.
The Social Development Department is the lead agency charged with promoting the social well-being of the Territory's residents.